Metal Buildings in Oklahoma - A Legacy of Strength
Oklahoma, a state with a rich history, has evolved into a hub of modern industry and innovation. Oklahoma's landscape has transformed from its early days of agrarian roots to its current prominence. This transformation is mirrored in the evolution of building materials.
The modern industrial era has embraced the efficiency and durability of prefabricated steel buildings. Just as Oklahoma's history has been shaped by resilience and adaptability, so have its buildings. Today, metal buildings in Oklahoma stand as a testament to innovation, strength, and the state's unwavering spirit.
Thriving Industries Powered by Oklahoma's Metal Buildings
Oklahoma's diverse economy is fueled by various industries that rely on the strength and versatility of metal buildings.
Energy Sector - Devon Energy Corporation: As a major player in the energy sector, Devon Energy relies on metal buildings for housing equipment, machinery, and operations facilities. These structures withstand the demands of the oil and gas industry, providing safe and secure spaces for critical processes.
Agriculture - The Samuel Roberts Noble Foundation: Agriculture is at the heart of Oklahoma's heritage. The Noble Foundation employs metal barns for storing farm equipment, sheltering livestock, and facilitating agricultural research. These structures offer durability to withstand changing weather conditions.
Manufacturing - Boeing: Boeing, a prominent aerospace company, utilizes metal buildings for manufacturing facilities and storage spaces. The versatility of these buildings accommodates the complex needs of the aerospace industry.
Education - The University of Oklahoma: Metal buildings provide cost-effective solutions for educational institutions like the University of Oklahoma. They serve as classrooms, research centers, and storage spaces, meeting the evolving needs of students and faculty.
Retail - QuikTrip: Even the retail sector benefits from metal buildings. QuikTrip, a convenience store chain, employs these structures for storage, distribution centers, and maintenance facilities, ensuring efficient operations.
The usage of commercial metal buildings across these industries underscores their adaptability, durability, and versatility in supporting diverse business operations throughout Oklahoma.
Oklahoma Metal Buildings vs. Oklahoma Wood Buildings
Oklahoma's climate, characterized by hot summers and occasional severe weather, calls for resilient building solutions. When it comes to constructing structures, such as carports, barns, and storage buildings, the choice between metal and wood is crucial.
Benefits of Oklahoma Prefab Buildings:
Durability: Metal buildings are designed to withstand Oklahoma's weather challenges, including high winds, heavy rains, and hail. Their sturdy construction offers long-term reliability.
Fire Resistance: Metal structures are non-combustible, reducing the risk of fire damage compared to wood buildings.
Minimal Maintenance: Metal buildings require less maintenance than wood buildings, saving time and money over the long term.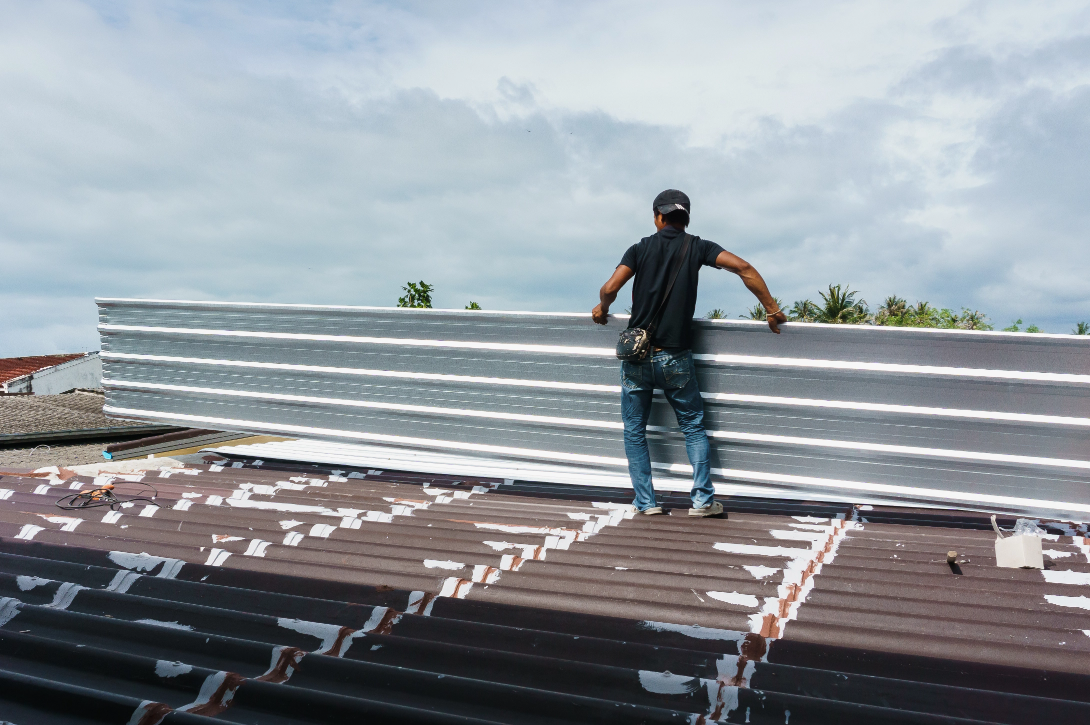 Benefits of Certified Steel Buildings
Certified metal buildings offer even greater assurance of quality. They are engineered to meet specific local building codes, ensuring they can withstand local weather conditions and adhere to safety standards. Additionally, certified structures often come with extended warranties, providing peace of mind for Oklahoma's climate challenges.
Customization Options:
Carports Advisor offers a range of customization options to tailor your metal building to your exact needs. From dimensions and roof styles to color choices and accessories, you can create a structure that complements your property while delivering optimal functionality.
Factors Affecting Steel Building Prices in Oklahoma
Several factors influence the final cost of steel buildings in Oklahoma. Understanding these factors can help you make an informed decision:
Size: The dimensions of your metal building significantly impact the overall cost. Larger structures require more materials and labor, leading to higher prices.
Customization: The level of customization, such as roof style, color options, and accessories, affects the cost. More intricate designs may incur additional expenses.
Location: Local building codes and regulations can influence pricing. Certified structures designed to meet specific codes might have a higher price tag.
Additional Features: Adding features like windows, doors, insulation, and skylights can increase costs but enhance the functionality of your building.
Accessories: Accessories like gable ends, garage overhead doors, and walk-in doors offer convenience but can impact the overall cost.
Installation Complexity: Site preparation, including leveling and foundation work, can influence the cost. Complex installations might require more time and effort.
By considering these factors, you can make an informed decision about the size, design, and features of your Oklahoma steel building while staying within your budget.
Let's Discuss Your Dream Steel Building in Oklahoma.
Speak to our OK metal building experts and share your custom requirements.
(336)-914-1654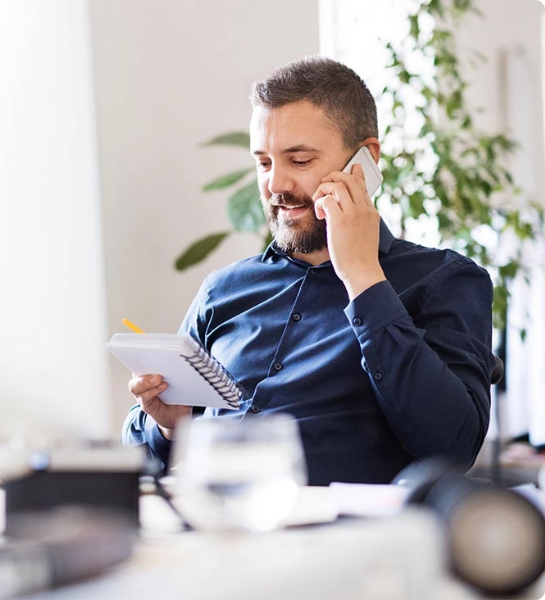 Metal Frames and Panels - Engineered Strength
The quality of frames and panels is paramount for steel buildings in Oklahoma. At Carports Advisor, our frames are available in either 12-gauge or 14-gauge galvanized steel.
The roofing panels are constructed from 29 Gauge or 26 Gauge premium steel. Steel gauge denotes the thickness of the metal sheet, with lower gauges indicating stronger sheets. For instance, 12-gauge metal sheets are 0.1084 inches thick, while 14-gauge sheets measure 0.0785 inches in thickness.
In areas prone to inclement weather, we recommend the sturdier 12-gauge option. The 14-gauge metal sheets are an industry standard, widely accepted for building carports and garages. Both gauges are suitable for various building structures, including steel barns, workshops, garages, and custom metal buildings.
The 14-gauge tubular frame features 2 ½" x 2 ½" steel tubing, while the 12-gauge frame utilizes 2 ¼" x 2 ¼" steel tubing, providing enhanced strength. Additionally, a 20-year limited warranty on rust-through of the frame underscores our commitment to quality and durability.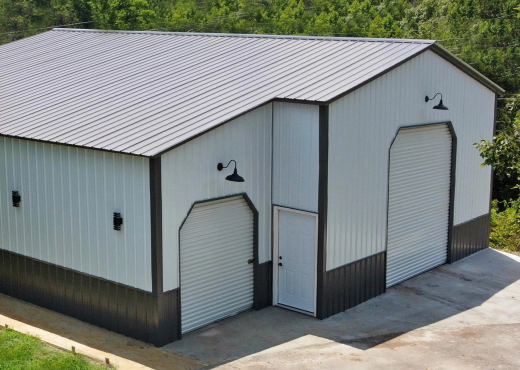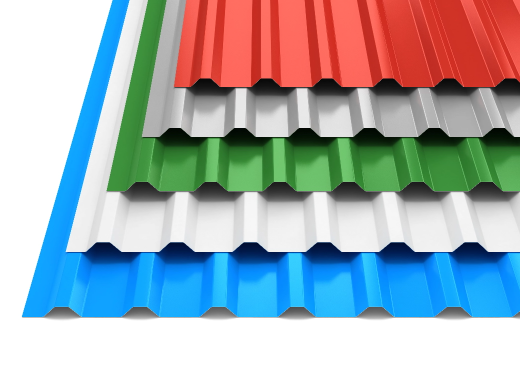 Oklahoma Metal Garage Accessories - Enhancing Functionality
Complement your Oklahoma metal garage with various accessories that enhance aesthetics and functionality. From Gable Ends and Garage Overhead Doors to Windows and Sky Lights, these accessories add convenience and value to your structure. Walk-in Doors provide easy access, while Metal Building Insulation ensures optimal temperature control.
Versatile Metal Buildings for Every Need in Oklahoma
Oklahoma Metal Garage Buildings Based On Size:
12'-24' Wide: Ideal for single-car storage, workshops, and smaller equipment storage.
26'-30' Wide: Provides ample space for larger vehicles, additional storage, and workspace.
32'-40' Wide: Suitable for multiple-car storage, workshops, and larger equipment storage.
42'-50' Wide: Offers expansive space for larger vehicles, boats, or RVs, as well as ample workspace.
52'-60' Wide: The ultimate solution for extensive storage, workshops, or commercial use.
Oklahoma Metal Garage Buildings - Versatile Types:
Carports: Protect your vehicles from the elements with versatile and cost-effective carports.
Garages: Securely store vehicles, equipment, or create a functional workshop with durable metal garages.
Workshop: Create an efficient workspace for hobbies, crafts, or professional endeavors.
RV Covers: Safeguard your RV from weather-related damage with customized RV covers.
Triple Wide RV: Accommodate multiple RVs or large vehicles with spacious triple-wide RV covers.
Carports Advisor Oklahoma Metal Buildings For Every Purpose:
Residential Steel Garages & Buildings: Use functional storage solutions and workspace to enhance your property.
Industrial Metal Garages & Buildings: Support your industrial operations with durable and versatile metal structures.
Recreational Metal Garages & Buildings: Create spaces for hobbies, leisure, and outdoor activities.
Parking Structures Metal Garages & Buildings:Optimize parking and storage with efficient and reliable metal structures.
From residential to industrial applications, Carports Advisor offers a diverse range of metal buildings tailored to meet every need in Oklahoma.
Versatile Metal Carports & Building Applications in Oklahoma
Metal buildings and carports have numerous applications in Oklahoma:
Vehicle Protection Shield your vehicles from harsh weather, including hail, rain, and UV rays.
Equipment Storage Safely store tools, machinery, and equipment, keeping them in optimal condition.
Workshops Create productive workspaces for hobbies, DIY projects, and professional tasks.
Livestock Shelter Provide comfortable shelter for livestock, protecting them from the elements.
Boat and RV Storage Preserve your recreational vehicles with durable and secure storage solutions.
Commercial Use Establish cost-effective storage and operational facilities for businesses.
Flexible Payment Solutions for Your Oklahoma Metal Building
Make your dream metal building a reality with our flexible payment options. At Carports Advisor, we offer convenient Rent-to-Own and Metal Building Financing solutions. These options ensure that you can acquire the metal building you need while managing your budget effectively.
Metal Garage Building Financing in

OKLAHOMA
We offer a stress-free financing option to pay your building amount via monthly installments. You can get metal building financing for any Metal building that suits your needs; without hidden charges. Our metal building financing program facilitates:
Flexible payment terms (24-72 months)
Financing available up to $50K Building price
Tie-ups with leading finance vendors
Payoff anytime
The quick and easy financing process
No hidden charges
Rent-to-Own Garages in

OKLAHOMA
Metal building Rent-To-Own program from Carports Advisor gives you a seamless buying experience with a small deposit at the initial level and monthly installments afterward. Among all, no credit checks are done, and you can get your RTO amount on the same day. Our RTO Program includes:
No credit check required
Flexible payment options
Affordable monthly payments
Payoff anytime
Instant approval
Ownership in 36 months or less
Choose Carports Advisor for Your Oklahoma Metal Building Needs
When acquiring a custom metal building in Oklahoma, Carports Advisor is your ideal partner. Our industry expertise, commitment to quality, and customer-centric approach set us apart.
We offer expert guidance, transparent pricing, and a wide range of customization options to ensure you receive the perfect metal-building solution for your needs. With Carports Advisor, you're not just getting a structure but investing in reliability, durability, and value.
Effortless Metal Building Delivery Across Oklahoma
Experience seamless delivery of your metal garages and buildings across Oklahoma. Carports Advisor takes pride in its extensive network, allowing us to serve various cities across the state. We understand the importance of timely and efficient delivery, ensuring that your metal structure reaches you as promised.
Our delivery locations cover numerous cities in Oklahoma, including but not limited to:
With Carports Advisor, you're not just purchasing a metal building; you're gaining a partner dedicated to making your metal structure acquisition process hassle-free and rewarding. Our commitment to quality, customer satisfaction, and efficient delivery makes us the go-to choice for all your metal building needs in Oklahoma.