40x20 Metal Building
Carports Advisor is the one-stop destination for purchasing a 40x20 steel building that suits best to protect your RV, Tractor, or Canopy. It can also fit best as a pavilion for your customized needs. Businesses consider this 40'x20' metal structure as a pole barn, warehouse, storage building, and more.
You can get this steel building with easy customization options, making it a perfect match for your land. Below are the common customization options available with this 40x20 metal garage building:
Insulation
Frame-outs or Garage Doors
Windows
Panel Orientation
Walk-in Doors
Lean-tos
Skylights
Solar Panels
Wainscot
DIY Kits
Certifications
With one call, you can book this 40x20 steel building and get it installed in the shortest lead time. Call (704) 802 7710 and share your personalized needs with us.
40'Wx20' L Prefab Building Color Options
A color option is always a supplement with prefabricated steel buildings and that's where metal buildings stand out of the crowd. This 40x20 Steel Building comes with 14 color options that you can choose from when booking a custom 40x20 steel building. You can further choose from 4 color options for your garage doors.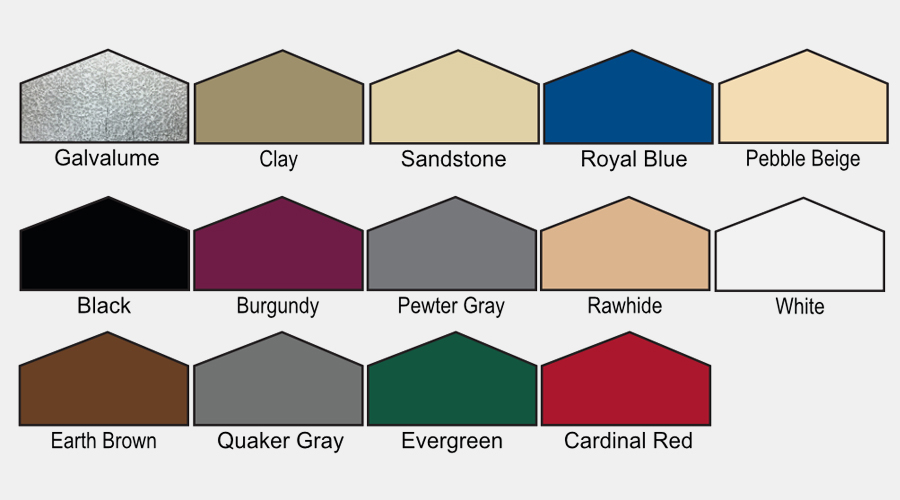 Available Roof Options for 40' x 20' Prefab Buildings
If you are all set to buy 40' x 20' metal buildings, it's crucial to know about the different roof styles available for your dream building. Carports Advisor helps you choose from three roof options that are listed below.
40' x 20' Regular Roof Building

This building is installed with rounded corners, which are the cheapest option among all. This roof style is easy to fabricate and quick.

40' x 20' Boxed Eave Roof Building

Another great yet cost-effective option is installing a 40x20 oriental roof for your structure. The only difference between this building and others is the. A-frame steel building is perfect for confronting moderate weather conditions and keeping your belongings safe.

40' x 20' Vertical Roof Building

The ridges on a vertical roof's steel panels run vertically. Deep and full eve side trim is two cosmetic options for these roofs. Additionally, they work effectively in residential structures. The pitches for vertical gabled roofs are 3:12, 4:12, 5:12, and 6:12. The roofs are suited for any environment because of their extreme steepness, which allows snow, water, leaves, and debris to drain off.
40'Wx20 ′L Metal Building Certification
A 40X20 certified metal building comes with 170 mph wind certifications and up to 35 PSF snow load certifications. You can further call (704) 802 7710 to know the local building codes and get a certified steel building quickly.
Our metal building manufacturers always use 100% commercial-grade galvanized steel resulting in long-lasting buildings offering premium protection from harsh weather conditions.
Buying from Carports Advisor includes various warranty benefits that are listed below:
20-year Rust Warranty
10-Year Panel Warranty
1-year Craftsmanship Warranty
RTO & Financing Available
Diverse Metal Garage Designs
Why Choose Carports Advisor for 40' x 20' Steel Garage?
With one time investment, Carports Advisor provides you with a long-lasting steel building that lasts for decades and keeps your assets fully protected. Buying from us offers you multiple benefits, some of which are listed below.
We are committed to serving a tailor-made steel garage building.
We offer all our steel buildings at highly affordable prices.
Our buying experience is smooth and quick.
With RTO and Financing, you can make a smart purchase without paying any funds.
We offer a quick and easy customization process that eliminates the heck of surfing local or online stores.
People Also Search For:
This 40x20 Metal Building is also known as
40x20 Metal Structure
40x20 Prefab Building
40x20 Custom Metal Building
40x20 Metal Warehouse
40x20 Metal Garage
40x20 Mancave Building
40x20 Storage Building
So, what are you waiting for? Book this 40x20 custom steel building now. We are always available to help you with the finest steel building at your land.