50x40 Metal Building
Metal buildings are nowadays used for commercial needs. This 50'x40' is one of the popular steel structures that is preferred for commercial and industrial purposes. With different customization options, buyers can customize their structure and get it installed quickly. The 50x40 structures are highly efficient in securing your valuables from theft, weather elements, and vandalism.
You can call (704) 802 7710 to discuss your personalized building requirements and let us suggest a fully customized 50x40 steel building for your land.
40?50 Metal Building Uses
There are countless applications for 50x40 metal structures. Metal RV shelters, steel barns, and storage or workshop buildings are a few examples. Our steel structures do not rot, fade, or weather like canvas or wood structures. Our 50W x 40L pre-engineered steel garages are made to last a lifetime, with the assurance that your belongings are safeguarded, store your vehicles, recreational vehicles, boats, heavy machinery, or farm equipment.
For 40x50 metal buildings, we provide various options, including roll-up doors, walk doors, windows, and insulation. To further personalize or complement the color of your structure, we also provide a range of colors for the walls, roof, and trim.
50'Wx40 'L Prefab Building Color Options
A crucial stage in the design process with Carports Advisor is deciding which colors you want for your steel building. You can explore colors for your building's roof, walls, trim, and wainscot. Here, you get a simple way to get the ideal color scheme for your bespoke 50x40 metal building.
Your building can stand out from the crowd by using colors that complement other buildings. Our team is qualified to assist you in selecting the ideal color scheme for your project. We have so many metal building color schemes and color charts to sift through once you buy your steel structure.
NOTE: Due to variations in monitors, colors may differ.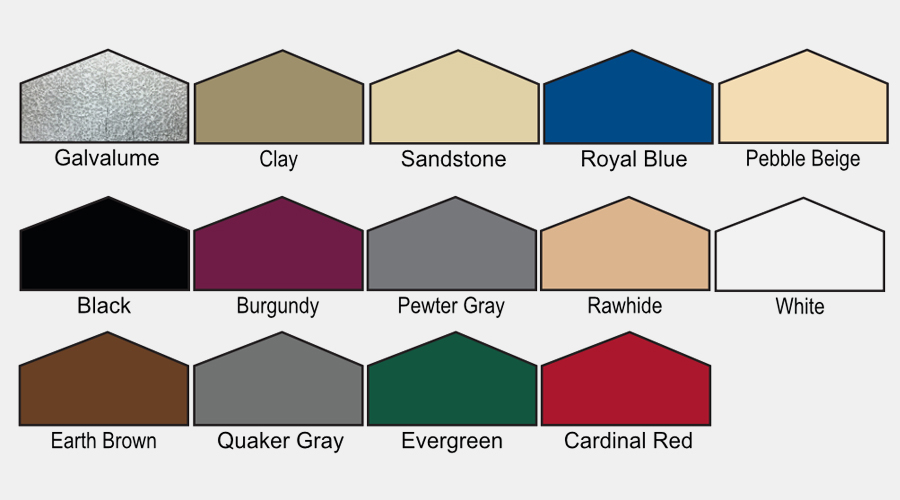 Roof Options Available for 50' x 40' Prefab Buildings
We provide three roofing options. They are the Regular Roof System, Boxed Eave Roof System, and Vertical Roof System. Each roofing system has benefits and drawbacks in terms of price and utility.
Vertical Roof: The greatest roof system we provide is the Vertical Roof. The corrugated ridges on the roof's panels run vertically or up and down, just like they would on the roof of a metal house. Compared to horizontally oriented panels, it is cleaner and lasts longer. A heavy downpour makes it simple to remove pollen, leaves, and other material from the roof. Snow also slides off the vertical roof system more efficiently.
A-Frame Roof: The panels of the Boxed Eave Roof are horizontally aligned, although they have the A-Frame appearance of a vertical roof. On the roof, horizontal panels frequently collect leaves and other debris. The panels won't last as long, and the roof won't remain as spotless as a vertical roof. Although it resembles a vertical roof in design, it lacks the Vertical Roof System's ridge cap trip, steel hat purlins, and deeper trim. This roof system is less expensive than the vertical roof system because those elements are not present.
Regular Roof: The two prior roof types offer the A-Frame appearance, but the Regular Roof does not. The unit features a bend transition to the legs as opposed to a welded transition on the Vertical and Boxed Eave Roof Systems, and the panels are aligned horizontally on the roof. The cost is the main benefit of owning this roof system. This roof system is the most affordable we provide.
Order Certified 50'x40' Metal Building
A 50x40 certified metal building comes with certifications for 170 mph wind and up to 35 PSF snow load. You can also call (704) 802 7710 to learn more about the local building codes and to quickly obtain a certified steel building.
Our metal building manufacturers always use 100% commercial-grade galvanized steel resulting in long-lasting buildings offering premium protection from harsh weather conditions.
Buying from Carports Advisor includes various warranty benefits that are listed below:
20-year Rust Warranty
10-Year Panel Warranty
1-year Craftsmanship Warranty
RTO & Financing Available
Diverse Metal Garage Designs
Why buy a 40?50 steel building from Carports Advisor?
There are numerous reasons for selecting Carport Advisor to buy a custom-tailored metal building. There are different building options, colors, and styles available from us. We exclusively use premium galvanized steel is strong, long-lasting, and economical method to build a metal garage.
The use of wood for building construction is becoming uncommon. Too many problems can arise with wood, which has high upkeep. Steel buildings are growing due to their strength and affordability. Hurricane winds or heavy snow do not affect our metal garage structures.
Below are other prime reasons that outrank the competitors and make Carports Advisor a wise option for your dream building.
We are committed to serving a tailor-made steel garage building.
We offer all our steel buildings at highly affordable prices.
Our buying experience is smooth and quick.
With RTO and Financing, you can make a smart purchase without paying any funds.
We offer a quick, easy customization process that eliminates the heck of surfing local or online stores.
People Also Search For:
This 50x40 Metal Building is also known as
50x40 Metal Structure
50x40 Prefab Building
50x40 Custom Metal Building
50x40 Metal Warehouse
50x40 Metal Garage
50x40 Mancave Building
50x40 Storage Building
So, what are you waiting for? Book this 50x40 custom steel building now. We can always help you with the finest steel building on your land.