How Carports Advisor Make Metal Building Ordering Process Smooth?
Buying your dream metal building is a confusing situation for first-time buyers who aren't familiar with the metal building industry, processes, glossary, and trends. This dispels the interested customers from buying a reliable and best-fit building for their purposes. Lack of transparency in the metal building ordering process is yet another prominent factor that distracts the buyers towards other building alternatives.
So, here at Carports Advisor, you are offered a soothing buying experience that is easy to execute even for newbie buyers. Check out the entire metal building buying process and how it is a cinch.
Step 1: Enter Your ZIP Code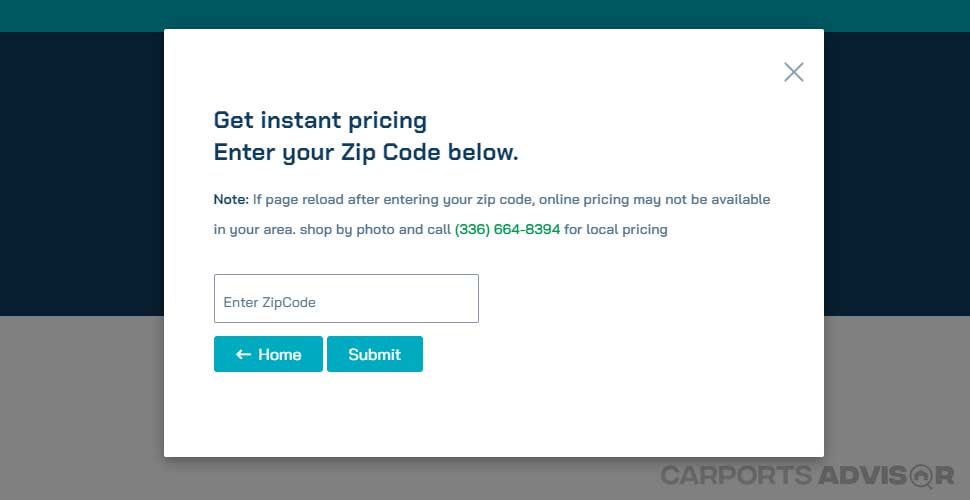 Carports Advisor is made to bestow a precise yet straightforward buying experience based on your delivery location. Hence, you are asked to enter your delivery ZIP code to find all the available products available in your region.
We ensure showcasing all the products that can be delivered to your doorstep in the shortest lead time; at a highly competitive price. Hence, you should start your steel building buying journey with the local code.
Another considerable reason is, metal building price is directly affected by your location due to code ratings. So, we provide you the precise building price within your location.
Step 2: Compare Building & Their Prices
The Metal Building industry was lacking one prominent feature where customers want to compare multiple steel structures, but Carports Advisor ends this hurdle. You can compare any two buildings and tally their features, specifications, color options, etc. to evaluate the best-fit for your needs.
Metal building comparison at Carports Advisor is Quick, reliable, and hassle-free.
Step 3: Choose Your Building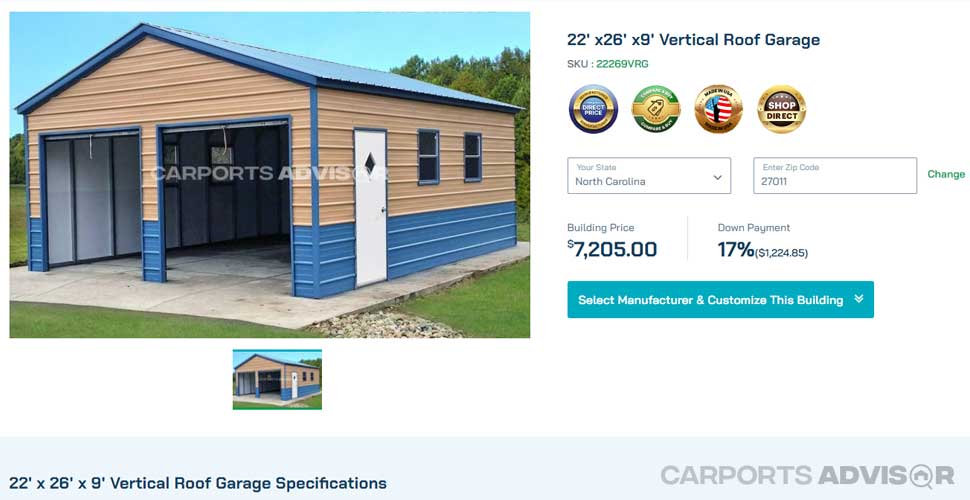 The next step is selecting an ideal metal building that can fulfill your entire necessities and bestow all the benefits you expect. Carports Advisor has a vast catalog of metal structures categorized by Size, Type, and Application. Hence, you get ample selection options from our catalog. You can choose from Carports, Garages, Workshop, RV Covers, and various custom metal buildings.
Remember, with each metal building; you get a 100% customization option to build it your way.
Step 4: Choose Your Manufacturer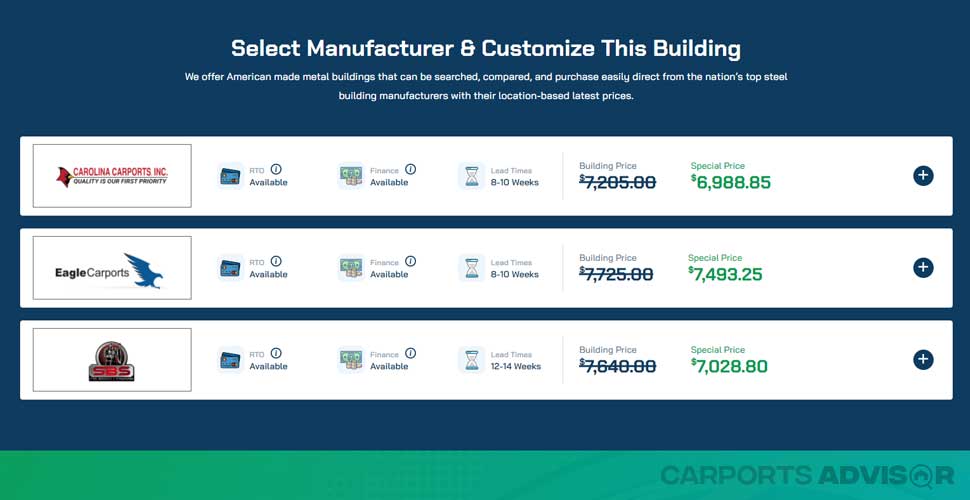 What if you want to choose a specific manufacturer for your dream metal building? Don't worry; Carports Advisor is the one and only digital platform that lets you choose your custom steel structure from three different manufacturers, i.e., Carolina Carports, Eagle Carports, and SBS. You can select one of these manufactures and make endless customization that best suits your requirements.
The entire customization process is segregated in multiple steps that ensure you don't leave any stone untouched and finalize an excellent building with diverse benefits for your needs.
Step 5: Make Your Order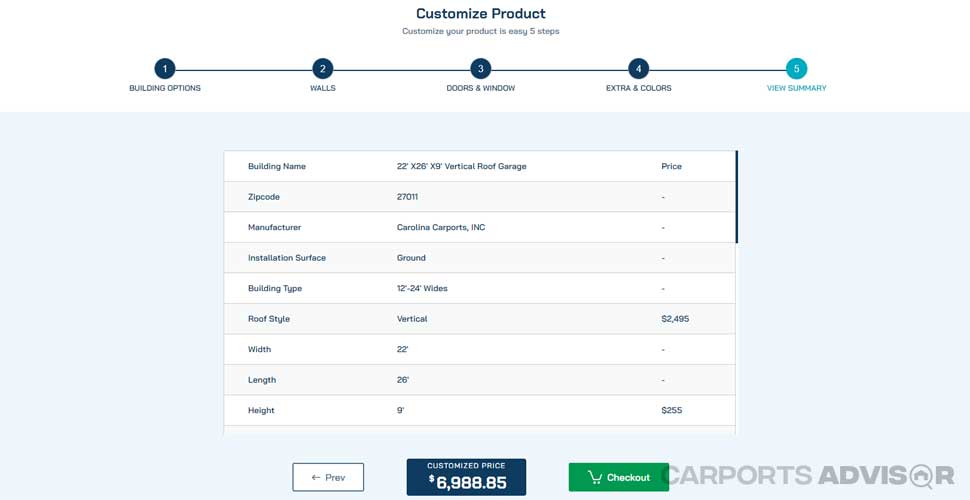 And, it's time to take the calculative decision and order your custom-built metal building without delay. You are provided with a detailed customize summary for your building that ensures your customizations before ordering. Furthermore, you can choose the delivery address and make the final payment accordingly.
Carports Advisor does have transparency on estimated delivery time. We have some statistics that show the percentage of orders completed in a specific time interval.
50% Orders (10-60 Days)
30% Orders (61-80 Days)
19% Orders (81-100 Days)
01% Orders (101 or More)
So, your building has high chance of getting your building within 10-60 days. Furthermore, there is only a 1% chance that you have to wait more than 100 days. Still, the Carports Advisor takes 10% off after paying the upfront if your order is late for more than 100 days. If the order surpasses 100 days, you also have the option to cancel your order and get a 100% refund.
Please note, the 100 days policy does not cover any refund orders.
Remember, you don't need to tighten your belt for buying an ideal metal building as they are available at affordable prices. With Carports Advisor, buying your dream metal structure is a piece of cake! No matter if you follow the current steel building industry trends or you have a unique idea for your dream structure, we can help you create your perfect steel building. Call us at (336)-914-1654, for any metal building requirements. Also, stay connected with us on Facebook, Twitter, and Instagram to know about the latest metal building industry updates and new building designs.