18x26 Metal Building
A small steel building is far enough to meet your basic parking and storage needs. Carports Advisor offers this 18x26 metal garage that is a small structure yet enough to serve your diverse needs at incredibly competitive prices. We let you customize a perfect 18x26 metal structure that can fit your custom needs, including roofing types, building codes, color schemes, and more.
When it comes to customization, we have multiple options to choose from. Below are the customization options that you can choose to redesign this 18x26 prefabricated building and get a custom 18x26 metal garage building
Insulation
Frame-outs or Garage Doors
Windows
Panel Orientation
Walk-in Doors
Lean-tos
Skylights
Solar Panels
Wainscot
DIY Kits
Certifications
With a single call, you can book your prefab steel building and book your order. Reach (704) 802 7710 and let us know the custom requirements.
18x26 Prefab Building Color Options
Color scheme is always an alluring factor that Carports Advisor offers to you. Yes, here you can choose from 14 options for your custom 18x26 steel garage. You can also choose from 4 color options for your garage doors.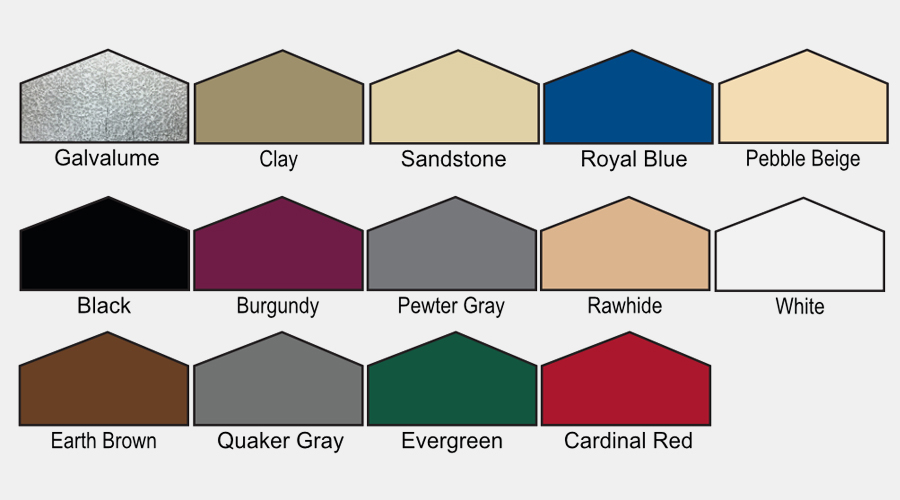 18' x 26' Metal Garage Roof Options
18' x 26' Prefab garages are available in three roof-style options, which every buyer must know before ordering.
18' x 26' Regular Roof Garage

Regular roof 18x26 garage building is the most affordable option that you can choose for your land. It is, however unable to confront harsh weather conditions. Yet, you can get this garage building for normal weather conditions and provide a perfect shelter from rain and snow.

18' x 26' Boxed Eave Roof Garage

18'x26' metal garage structure with a horizontal roof style is another economical option that you can choose to bestow a residential look to your garage building. The steel panels are installed in A-frame, providing a decent look to your garage. However, it is effective for moderate weather.

18' x 26' Vertical Roof Garage

18'x26' metal garage with a vertical roof style is the practical solution for buyers looking for a certified garage building. This 18'x26' metal structure is the right investment that can save your assets from harsh weather conditions without frequent upkeep.
18'x26' Garage Storage - Serve for Decades
Metal garages built with Carports Advisor are built to benefit you for decades. Our metal garage manufacturers use galvanized steel framing and heavy-duty roofing panels that create a long-lasting building. The interesting part is all steel garages come with zero internal columns, offering 100% usable space. This 18x26 metal garage comes with a warranty that it stays flawless with minimum upkeep.
Custom Designed 18x26 Metal Building
The final price of this 18x26 prefabricated building varies depending on the customization involved. Carports Advisor is committed to delivering a high-quality, 100% American-manufactured steel building on your land. When you order a custom 18'x26' metal building from us, you get the following:
20-year Rust Warranty
10-Year Panel Warranty
1-year Craftsmanship Warranty
RTO & Financing Available
Diverse Metal Garage Designs
Other Names for 18x26 Metal Garage Building
This 18x26 Metal Building is also known as
18x26 Metal Structure
18x26 Prefab Building
18x26 Custom Metal Building
18x26 Steel Building
So, what are you waiting for? Book this 18x26 custom steel building now.
Why Choose Carports Advisor for 18' x 26' Steel Garage?
Carports Advisor gives you easy ways to design a custom metal building hassle-free. You can use our simple step-by-step way to design a prefabricated steel building and order it immediately. Below are the reasons that make Carports Advisor the best among metal building dealers across the USA.
We are devoted to serving you a perfect-fit steel garage that matches your custom requirements
We offer a highly competitive price for this 18x26 garage building
We provide a smooth and simple ordering process
You can choose from RTO and Financing options to make your purchase easy
We let you customize any steel garage and order it immediately. There isn't any waiting period to place your order.